T-Systems to Showcase SAP Solutions at HANA 2017
June 14-16, 2017 -- Amsterdam, Netherlands
More than 240 expert sessions, 180 speakers, 35 hours of concentrated knowledge transfer and 33 case studies – HANA 2017 is the leading conference for companies in Europe using SAP, which decided to enter the digital age with the help of SAP S/4 HANA. Be inspired and network with exhibitors and trade visitors.
Hosted by SAP and SAPinsider, the European event is directed at companies involved in the evaluation, implementation and optimization of SAP HANA and SAP S/4HANA, with the intention of simplifying and accelerating business and IT processes. Visitors will benefit from five additional conferences at the same event location: BI 2017, GRC 2017, Financials 2017, Basis & SAP Administration 2017, and Customer Engagement & Commerce 2017. Numerous SAP experts as well as representatives from a wide range of different companies and sectors will present roadmaps, provide practical examples, and make strategic recommendations.
T-SYSTEMS – A STRONG PARTNER
At HANA 2017, SAP partner T-Systems will show how the fast and secure transformation into a real-time company can be accomplished by using SAP solutions. As a global cloud enabler, T-Systems is the perfect end-to-end partner for smooth and seamless transformation. That's because T-Systems is the world's leading provider of cloud-based SAP solutions, a pioneer in the area of SAP HANA® and is the sole provider to accompany the customer on the path toward comprehensive migration to SAP HANA S/4 services from the cloud.
Your path into the digital age: with end-to-end services and solutions by T-Systems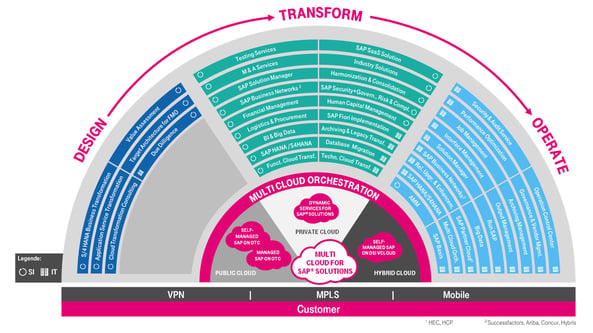 The presence at HANA 2017 focuses on the end-to-end approach when it comes to SAP transformation. Design, transform and operate – T-Systems shows how the Cloudifier helps to achieve an end-to-end transformation to SAP S/4 HANA within a determined period of time and at fixed package prices. This 360-degree approach includes the analysis of the SAP landscape and the migration to SAP services from the cloud as well as their operation.
Due to T-Systems' professionals, the customer does not need to have any digitization know-how himself. Customers can rely on the assistance of T-Systems experts. The transformation is transparent, simple and secure – and without any interruption of business operations.
Furthermore, T-Systems presents a new platform and demonstrates with SAP® Solutions on Open Telekom Cloud how the customer can configure fully functioning SAP appliances for SAP HANA and S/4 HANA from the secure public cloud. Thus, SAP applications become available flexibly and anytime, for example for testing of SAP HANA and the latest S/4 HANA software, and even as a perfect addition for short-term requirements – always in the usual high quality of Deutsche Telekom's public cloud.
Additionally, customers benefit from T-Systems' quality assurances:
Un-outsourcer solutions for flexible and success-oriented contract models thanks to a special right of termination under defined circumstances
Zero Outage method, ensuring better stability during operation, higher reliability in projects
T-Systems highlight topics at HANA 2017:
Design: The first step toward a successful transformation is to ensure the best possible preparation. T-Systems allows you to take your company applications into the cloud – in a predictable, standardized, low-cost, simple, and secure manner. Experts at T-Systems analyze your current SAP landscape for this purpose, scrutinizing both business processes and services as well as applications and the entire infrastructure as part of an end-to-end approach in order to define optimization potential and make recommendations for action.
Transform: The second step focuses on simple yet secure migration to the cloud or SAP S/4HANA®. New deployment models transfer the solutions either to the public cloud or to a combination of private and public cloud. SAP operation is thus even simpler and more cost-effective – and still remains secure. The standardized cloud readiness process furthermore establishes fixed variables for each application to enable the defined scope of service to be calculated at a fixed price. So you can keep everything under control.
Operate: Following successful transformation, the third step involves operation of the SAP applications by T-Systems in a secure IT environment. The platform, operation and database model can be chosen freely – in accordance with individual requirements. The target platforms for the applications are the T-Systems Dynamic Cloud Platform in the private cloud, the Open Telekom Cloud and partner cloud systems from the public cloud or the hybrid cloud as a combination of private and public cloud services.
Are you interested in meeting at HANA 2017?
Our experts will be available to answer your questions on all topics. Arrange a consultation appointment now with T-Systems. We look forward to a personal discussion with you or seeing you at our booth 200.
Please fill out the form below to arrange a consultation appointment: